Grace Baggot AS, LCMT is a Licenced and Certified Massage Therapist trained in the United States with a degree in Applied Science. She has changed her life several times and is capable of helping you change yours.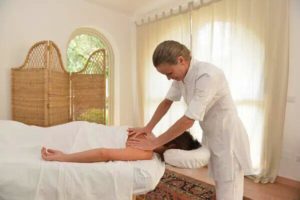 Grace worked in the executive and financial offices of private and international corporations throughout Manhattan beginning at the age of 17 and lasting more than a decade.
She was a conservator of fine antiques and objects of art for twenty years. She restored objects for private Park and Fifth Avenue clients, prestigous estates, museums, and public collections. She specialized in gold surfaces after studying traditional techniques in London, near Kings Cross. Her studio in Soho (New York) also sold gold leaf and other fine restoration and artistic materials. Her shop was well known for offering supurb technical support.
Grace helped found the Society of Gilders in the United States and served on its board of directors for almost 10 years. The membership she was responsible for reached 6,000 and she oversaw its development of educational offerings nationwide.
She has been an educator offering gilding courses at her studio in Soho and at university, The Fashion Institute of Technology in the Fine Arts Department, where she taught gilding and lacquer conservation.
"I was not born saying I wanted to be a therapist. It was a calculated life decision made at the age of 48."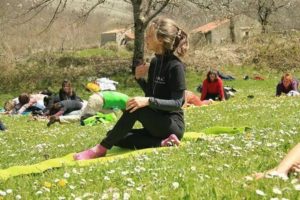 So Grace returned to college as a student at the age of 48 looking toward her 25 year old dream to move to Cilento. She studied pre-med for 3 years at the Community College of Rhode Island at Newport attaining a diploma in Applies Science as a Massage Therapist with accademic and humanitarian honors. Immediately upon graduation she move into her home in Cilento and has been practicing massage therapy and yoga since 2009.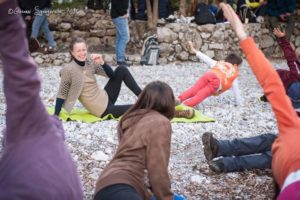 Well traveled and well read. This is her choice for a good life. Her values have never changed. Here in Cilento she finds the integrity, the elements, the ability to nurture one's self to fulfilment, self realization.
"The world around us does influence significantly who we are. We want to understand the world around us, our perseption of the world around us, our needs from the world and what we have to offer in exchange. This knowledge brings peace. Being in peace with what is is to be at peace in ourselves. The equilibrium between body, mind, and spirit, is bliss. Bliss is born in peace.
We need to take time to be quiet and still, to observe ourselves and the world around us. We need to distance ourselves for a moment from stimulations and emotions in order to see more clearly, think more efficiently. We need time to recognize the bliss we already have created. We need time to recognize how much we have been gifted. We need time to reflect on how we can adjust our lives so as to continue to nurture this bliss into longevity.
Preserving our heritage is admirable but one becomes surrounded by objects and a constant valuing of objects. Despite success I still believed life promised a more profound gratification.
Being a therapist is the gratification I had been searching for. Nothing is more profoundly gratifying as being able to help another.
My life here in Cilento offers the elements necessary for a life of true integrity, according to my values. People are appreciated for their ability here as in New York but their character is taken into consideration as well. Human dignity is the ethos of a modest, healthy, and peaceful lifestyle."
Grace everyday still learns just how wise our intuitions really are …